Case Detail
Customer name: ASKPCB -- A reliable PCB manufacturer in China and even the world electronics industry company in Huizhou,Guangdong province
Cooperative project: PCB electroplating PNPF positive and negative pulse power supply
Case introduction: A famous PCB manufacturer in China and even the world electronics industry company in Huizhou,Guangdong province contacted us, hoping to provide them with a high efficiency and high precision PCB electroplating power supply.
Through many times telephone conversations with the technicians and factory visits, finally, we design a pulse power supply according to their requirements.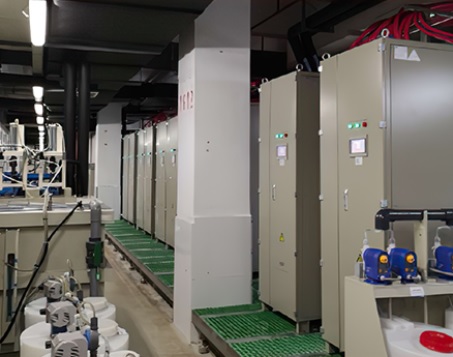 When dc plating is used, the thicker the plating around the hole is, and there is no plating in the hole. The two ends are big and the middle is small. This dog bone phenomenon is prone to copper cracking, or no electricity at all.
The high-speed positive and negative pulse designed and developed by our company is used to reverse the copper accumulation around the hole, so as to ensure the same thickness inside and outside the hole, reduce the loss and improve the efficiency.
After a period of use, the customer praised the high quality and stable performance of our power supply, the high-speed positive and negative pulse power supply successfully improve the efficiency, realize high control accuracy, small volume, new installation mode with tank body to reduce costs, improve the uniformity of electroplating, optimize electroplating process.
Project description:
Output current: Forward Current 0~2000A; Reverse current 0~6000A.
Output voltage: Forward Voltage 0~6V; Reverse Voltage 0~18V.
Honor Customers