Copper electrolysis industry
Case Detail
Customer name: ZIJIN MINING -- A large transnational mining group, which mainly focuses on the exploration and development of gold and copper metal mineral resources and the application of engineering technology.
Cooperative project: Democratic Republic of the Congo Electrolytic copper project
Case introduction: Zijin Mining Group is a super large combined enterprise integrating mining, dressing, smelting and processing of copper in China's non-ferrous metal industry. It is the largest production base of copper products in China and an important source of sulfur chemical raw materials, gold, silver and scattered metals, as well as one of the largest companies in domestic electrolytic copper production and output.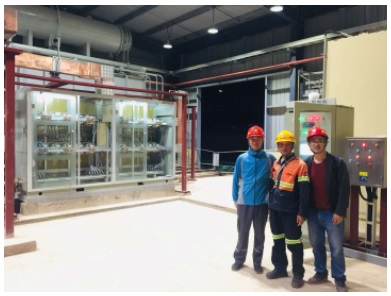 When dc plating is used, the thicker the plating around the hole is, and there is no plating in the hole. The two ends are big and the middle is small. This dog bone phenomenon is prone to copper cAccording to the customer's situation, we choose the thyristor with low current threshold to reduce power consumption and improve rectifier efficiency. Minimize the number of parallel components in the rectifier bridge arm. Due to the nature of thyristor, each state of SCR threshold voltage can't be exactly the same, for this cause the rectification bridge arm conductive coefficient of imbalance between parallel components, components in parallel, the more conductive the unbalanced gap, the greater the so as far as possible choose positive average current thyristor, reduce the number of components in parallel rectifier bridge arm, increase the flow coefficient of the rectifier bridge arm. The current equalizing reactor is used for forced current equalizing, and the low power consumption equalizing electric appliance developed by our company is added for forced current equalizing between two silicon controlled devices of the same bridge arm. The coefficient of current equalizing is as high as 0.96, which improves the efficiency of rectifier and the quality of electrolytic copper produced is excellent.
Project description:
Output current: 0~45000A; Output voltage: 0~210V
Pulse number: 24 pulse rectification
Honor Customers