Case Detail
Customer name: BLUE STAR -- A global leader in chemical materials and specialty chemicals
Cooperative project: Wastewater treatment rectifiers
Case introduction:
China National Blue Star (Group) Co., LTD., a professional subsidiary of China National Chemical Corporation, mainly provides chemical materials, animal nutrition and engineering services. Bluestar has 58 factories and 16 research institutes worldwide, with operations in more than 200 countries and regions and six overseas companies.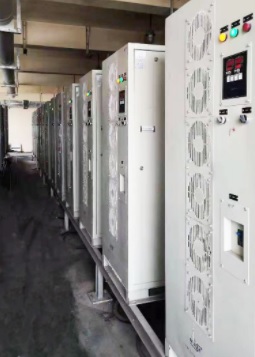 According to customer's requirements, they need a rectifier for wastewater treatment.
Liyuan self-developed wastewater treatment power supply can be widely used in various wastewater treatment processes, such as electrocoagulation of electroplating wastewater, electroadsorption, micro-electrolysis technology, and the removal of heavy metals electrolytic precipitation or floating, membrane electrolysis, electrodialysis and ion exchange method.
Based on the richness experiences and advanced technology, we have designed a rectifier as per customer's specifications, Voltage and current can be adjusted independently, power supply can be displayed and controlled in the machine, or remote PLC display and control, at the same time with soft start ruanting function, soft start time and soft stop time can be set in the field cabinet. This rectifier largely improve the efficiency and save energy,better removal of all kinds of metal ions in the wastewater, so that the wastewater is purified.
Project description:
TDFB-440A110V Output current: 0~440A; Output voltage: 0~110V
Honor Customers