Case Detail
Customer name: JOMOO -- An innovative enterprise of the whole industry chain and an expert of global whole-house scene solution with intelligent sanitary ware as its core, integrating scientific research, production, sales and service.
Cooperative project: Series of surface treatment rectifiers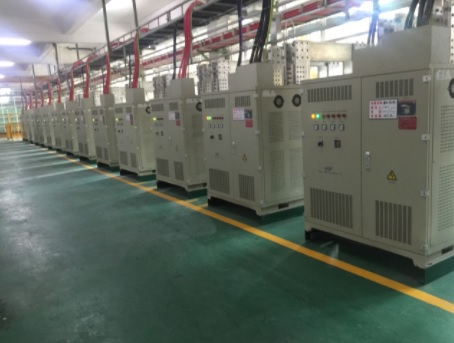 Case introduction: A famous manufacturer focus on kitchen and bathroom and supporting products research and development and production, is a sanitary ceramics, overall kitchen and bathroom, kitchen and bathroom furniture, hardware faucet, kitchen and bathroom hardware.
According to customer's requirements, they need multiple series of surface treatment rectifiers, which can be applied to hard chromium plating, electroplating copper nickel etc.
The TB series synchronous rectifier power supply independently developed by Liyuan is small in size, light in weight and more stable in output performance. The power conversion efficiency is up to 94%. The improvement of power efficiency greatly reduces the production cost of end users and improves the market competitiveness of customers' products. At the same time, high performance power products also improve the surface treatment of product performance quality. The use of network centralized digital control technology greatly improves the control precision, reduces the cost of centralized control of power supply, and facilitates maintenance.
Project description:
TBFBZ-2500A12V Output current: 0~2500A; Output voltage: 0~12V
TBSB-10KA12V Output current: 0~10KA; Output voltage: 0~12V
TBFBZ-600A6V Output current: 0~600A; Output voltage: 0~6V
TBSB-5000A9V Output current: 0~5000A; Output voltage: 0~9V