Aluminum electrolysis industry
Case Detail
The 2×450,000-ton electrolytic aluminum construction project of Jiugang Group Jiujia Wind Power Base Coal-Power-Aluminum Integration Project is the first electrolytic aluminum project operated by isolated grid in China. The aluminum industry brings significant economic and social benefits.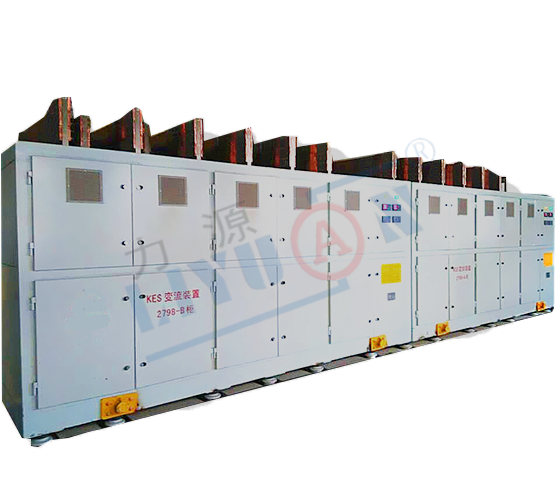 The project has an annual output of 2 × 450,000 tons of electrolytic aluminum. The electrolysis series adopts 500kA electrolytic cells, and each series is installed with 336 units. The first electrolysis series has 9 rectifier units; the second electrolysis series has 8 rectifier units. The project adopts 17 sets/34 sets of KES-2×45KA/1480V rectifier cabinets of our company, 17 sets of KZX10-12 unit current stabilization control cabinets, 3 sets of ZX-110 series master control panels, 3 sets of power grid stability control devices, ZL- 2 sets of 200 upper computer rectification automation monitoring systems.
Under the isolated grid operation, the control strategy is mainly completed by the coordination and cooperation between the frequency modulation device of the rectifier system and the stability system. Frequency modulation device function: The frequency modulation device is mainly used in the electrolytic aluminum control system of the isolated network, and the frequency is stabilized by adjusting the electrolytic aluminum load in response to the abnormal frequency caused by the electrolytic aluminum effect voltage and the switching of major electrical equipment. The frequency modulation device directly collects the real-time frequency of the power grid, and adjusts the load according to the set value of the collection frequency. Usually, when the frequency is between 49.5Hz and 49.0, the frequency modulation device assists the generator set in one adjustment to stabilize the frequency within the frequency modulation dead zone range (49.8±0.2Hz). It belongs to the frequency fine tuning operating system. Its advantages: fast adjustment rate, high precision, short frequency recovery period, and at the same time, it can reduce the frequency of the primary frequency modulation action of the generator set, reduce the mechanical action of the generator set, and improve the life of the generator set. Cooperate with safety control strategy for load shedding: When there is a major load loss in the power grid (the grid-side generator set fails or the load-side rectifier unit trips), the safety control and load shedding are carried out. The safety control system adjusts the cut electrolytic aluminum load according to the loss load of the power grid, so as to achieve the power balance between the grid side and the load side. Usually, the stability system adopts two sets of stepless load shedding scheme, that is, the main and standby load shedding control system, to ensure the effective execution of load shedding. The stepless load shedding mode means that the loss load on the grid side needs to correspond to the cut electrolytic aluminum load after the safety control calculation. When the single series single load shedding does not exceed 50%, any load value can be cut.