Case Detail
Customer name: Youyan Rare Earth New Materials Co., LTD
Cooperative project: Rare earth smelting power supply
Case introduction: Youyan Rare Earth New Materials Co., Ltd. is one of the earliest units engaged in the research and development of rare earth in China, and also one of the cradles of Rare earth industrial technology in China. It is mainly engaged in the development and utilization of rare earth resources, the research, development and production of rare earth materials and applications.
In industrial mass production of mixed rare earth metals, molten salt electrolysis is generally used. The process involves heating and melting rare earth compounds, such as rare earth chlorides, and then electrolysis to precipitate the rare earth metals at the cathode. There are two electrolysis methods: chloride electrolysis and oxide electrolysis. Methods for preparing single rare earth metals vary from element to element.e power supply according to their requirements.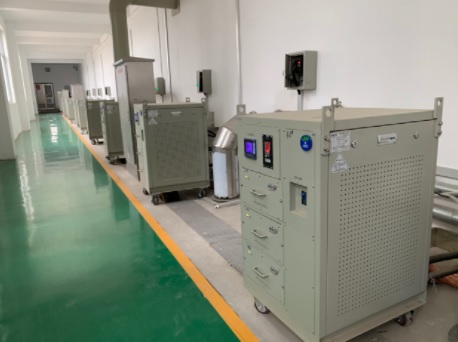 When rare earth metals are prepared by molten salt electrolysis, the power supply for equipment is very important, which directly affects the production efficiency and capacity of rare earth smelting. The customer wants us to provide a power supply that can improve productivity and reduce energy consumption.
According to the customer's production line, we use the most advanced adaptive resonant full bridge 2 shed control IC, with adaptive zero voltage delay control function, supported by high resonant inductor, so that IGBT can almost achieve ZVS in the whole working condition, reduce IGBT loss by 40%, while improving EMC characteristics. Reduce the interference to the power grid and power itself. IGBT of high power and high voltage with uHF and low saturation voltage drop is selected to make the working frequency of the third generation of switching power supply higher than that of the second generation of switching power supply and reduce the size of magnetic materials. At the same time, low saturation pressure drop also reduces IGBT loss.
Original hot backup technology with stable width and no reaction delay time, multiple machines work in parallel with the same frequency and phase when a unit in the system fails, other units can make the total output current reach the setting and stability in a very short time (time < 30ms).
Project description:
Output current: 0~5000A; Output voltage: 0~45V
Honor Customers